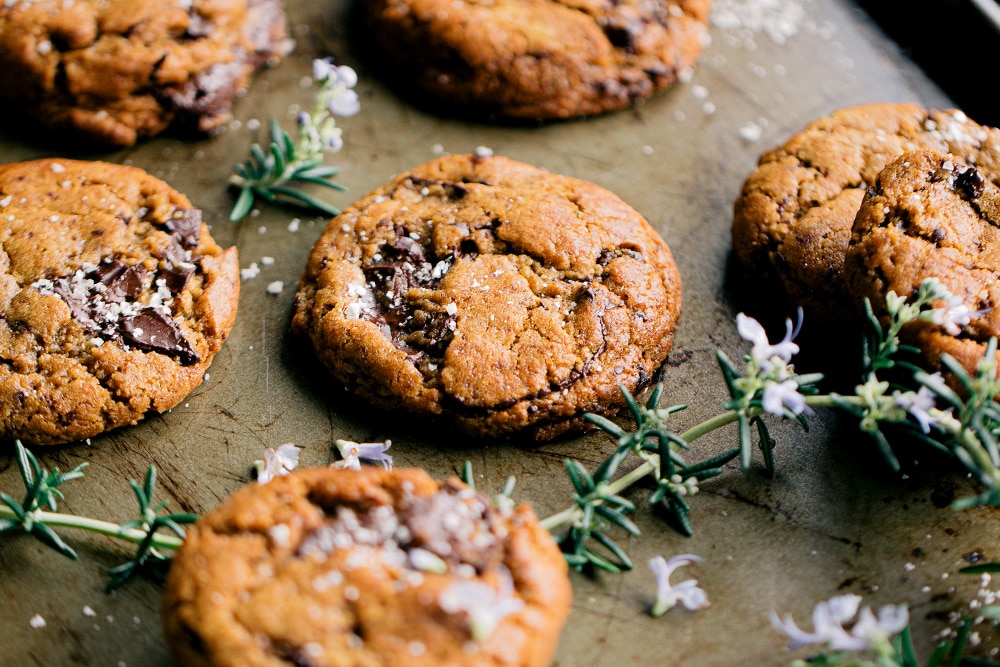 These Olive Oil Chocolate Chip Cookies are dairy free and small batch. As a result can satisfy any cookie lover's desires. They come together quickly in one bowl, and are filled with puddles of chocolate. They make for an exceptional chocolate experience. These cookies don't require a stand mixer, are super adaptable. You can add in any mix-ins that you like, which makes them easy for anyone to bake. They are crispy around the edges and chewy in the middle. I guarantee these will quickly become your new favourite cookie. Check out our range of great oils to try in this recipe.
https://thevillagepress.co.nz/product-category/global-village/
The EVOOngalist
Instructions
Preheat the oven to 325°f / 165°c. Line 1-2 sheet pans with parchment paper.
In a medium bowl, using a handheld electric mixer or a whisk (or you can use a stand mixer fitted with the whisk attachment), combine the Global Village 'Spain' Olive Oil, muscovado sugar, granulated sugar, turbinado sugar, and egg. Mix on high speed for about a minute, until the mixture is well combined. Add the salt, espresso powder, all-purpose flour, and baking soda and fold in by hand using a rubber spatula.
The dough will seem a little oily and may take a little work to come together – this is ok! Add the chopped chocolate and mix to incorporate.
Scoop out 3 Tbsp balls of dough (about 75g per ball) and roll into rough balls. Press additional chocolate onto the top of each ball if desired.
Bake the cookies for 16 to 17 minutes, until the edges are set. Remove from the oven and tap the baking sheet briefly on the counter to deflate the cookies slightly. If you would like them perfectly round, use a cookie cutter slightly larger than the cookies to scoot them into a round shape. Finish with flaky sea salt. Allow to cool on the sheet pan for about 20 minutes.
Store leftovers in an airtight container at room temperature.
Details
Prep time: 10 minutes
Cook time: 30 minutes
Total time: 40 minutes
Serves: 8
Category: Cookies
Cuisine: American
Ingredients
75g Global Village 'Spain' Extra Virgin Olive Oil
90g Muscovado Sugar or Brown Sugar
50g granulated sugar
20g Turbinado (Raw) Sugar
1 large egg, at room temperature
1 tsp salt
1 tsp espresso powder
145g All-Purpose Flour
1/4 tsp baking soda
200g dark chocolate, coarsely chopped, plus extra for the tops (I used a mixture of milk and dark)